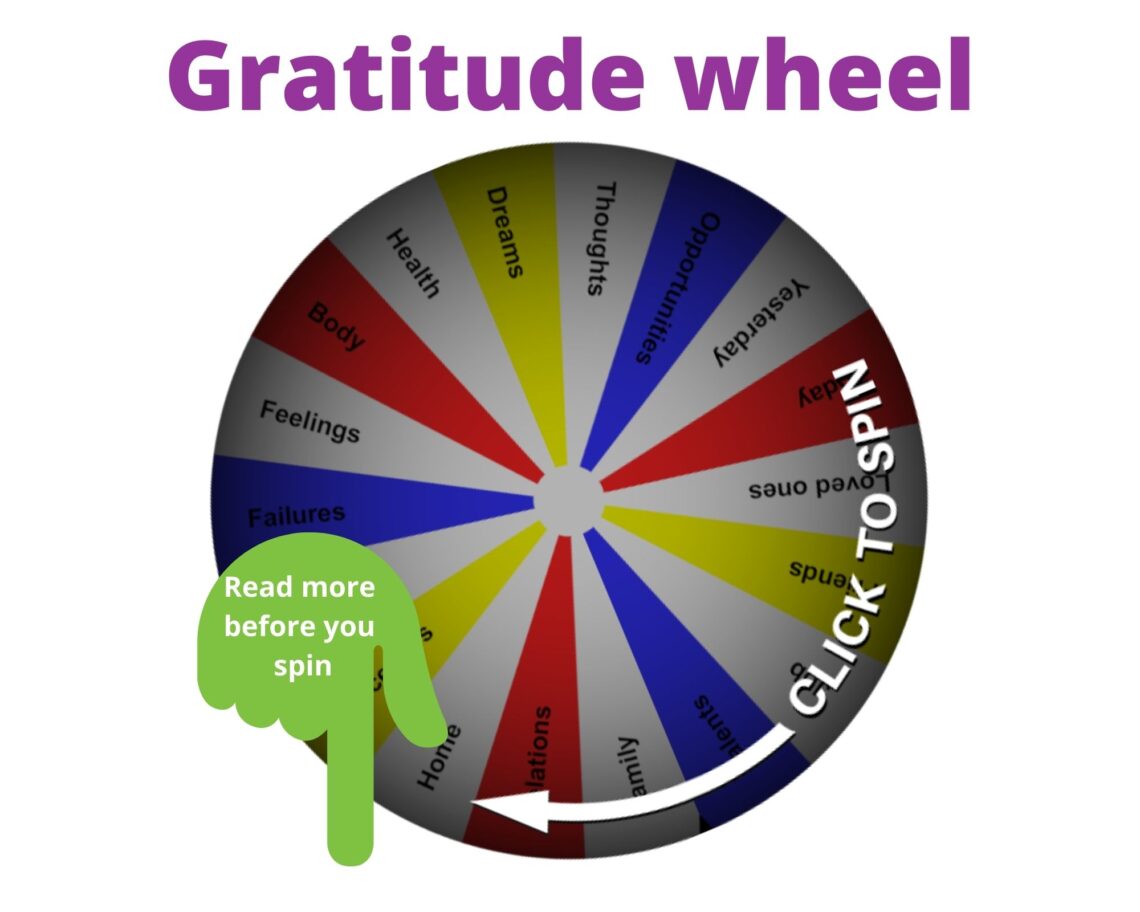 If you would like to change something in your life, the first step is to change inside you. The easiest method for this if you use the power of gratitude and slowly, but consciously re-tune your thougths and emotions. 
When you learn to look to the mountain of the problems, they will change and will be just happen which are there to help you launch your goals.  Everything happens to you, arrives to your life to help your imrovement and development.
The gratitude is the way where you reach your goals the quickest way when you walk on. 
How to use the Gratitude wheel?
The Gratitude wheel is a player tool to get new ideas why you can be grateful.  When you use it regurarly you will get use to write your gratitude diary and you will be grateful automatically for everything what happens in your life.  
Spin the Gratitude wheel and give thanks for that topic when the wheel stops. Write down your sentence into a book or your thanks diary. Spin the wheel more often and give thanks for all that spins. Write down all of the sentences and also if something else comes to your mind. 
Come back every day and spin the wheel even more times daily. Practice thanksgiving. You will see, after a short while it will be as a rutine. 
I wish you days full of gratitude.
Give thanks every day. For more ideas, tips ask for the Gratitude mantra diary.
Gratitude mantra diary
This Gratitude Mantra Diary was created to help me transform your thoughts, thereby retuning your emotions. My goal is to show you techniques on how to find the way out from your negative thoughts, and how to find your peace, how to become calm even on those times when happening something unexpected or some kind of not so happy event in your life.
It is easier to be grateful for those things what fill you with happiness and tune you to a good mood. If you learn how to be grateful for the things you love less, after a while you will look at everything with acceptance and understanding.